---
Locating Qualified Tenants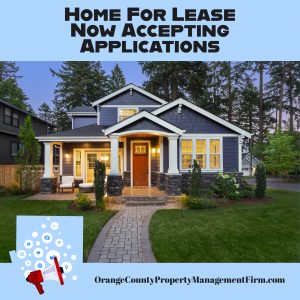 Locating qualified quality tenants in the shortest amount of time is our number one priority.
We utilize multiple resources to quickly find as many qualified applicants as possible.
Multiple Listing Service
We list our homes on the (MLS) the largest real estate marketing website in the US.
Using the MLS gives our homes that boosted exposure needed to find more applicants in the marketplace.
The power of the MLS delivers the most exposure of a home in the shortest amount of time.
This is instrumental in locating qualified applicants. The demand generated by using the MLS is far
greater than ANY other tool available to property managers today!
There's no better tool than the MLS.
Property Signage
We install 24×24 signs on the property as needed.
Referral Marketing
We have an extensive list of happy tenants that refer applicants routinely.
Website Marketing
We have an extensive web presence of rental homes in Orange County on our website.
EMAIL or CALL Today!
949-254-4721