---
Applicant Screening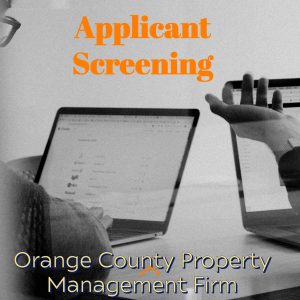 After receiving applications, we start the screening process.
Our screening process has been established during the last 30 years of managing property.
Who and what we are looking for
We are looking for tenants who will pay their rent on time, follow the terms of the lease, maintain
the property, and respect the neighbors as if they owned the home.
Credit Reports
We are looking for long term repayment of all debts, as agreed, with no late pays.
It is also important to review the balances owing to available credit lines.
Criminal Background Checks
We run background checks on all applicants.
Employment Verification
We verify length of employment and employment itself.
Past Evictions
We verify whether or not the applicant has any unlawful detainers or past evictions.
FICO Score
We are always looking for the highest fico score possible.
We generally will not accept any applicant with a FICO score below 640.
Income Verification
We verify all disclosed income sources.
We calculate debt to income ratios.
Rental History Verification
We verify rental history and proof of rents being paid.
We contact current and or previous landlord(s).
Verification Of All Documents Provided
We identify and verify driver's licenses, social security cards, pay stubs,
bank statements, and all other documentation received.
EMAIL or CALL Today!
949-254-4721